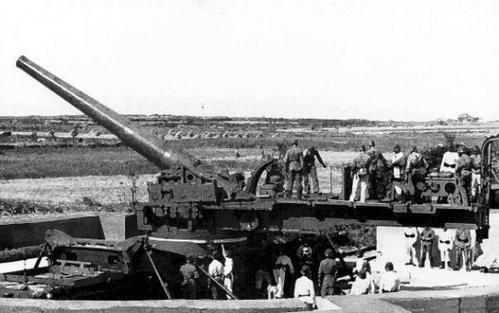 When the British Navy started building the "Dreadnought" in 1906 equipped with canons of 308 millimeters (now I'm just going to type mm) thus changing completely the way naval battles would be fought, the Kronprinz immediately though of building something bigger and better.  The engineers at Krupp industry got to it and build the "Langer Max" a 380mm canon able to send a 750 kilos shell up to 20 kilometers.  But WW1 came faster than the engineers' work and the German were fighting more on land than on water.  Out of the 20 Max build two were on reserve at Meppen in Germany.  This is when the idea to move navy
boat onto trains came real.
The Kronprinz V Army got stuck in front of Verdun, and the Marne Battle proved the Brits and the French determined to close the road to Paris.  Despite the very difficult task of adapting the canon to a flat platform, the first one was installed near the Farm of Sorel, about 20 kilometers East of Verdun fired it's first shot on February 1915 on the fort of Douaumont and Vaux whereas the one from Duzey was shot in September.
I bumped into the later while driving in Meuse like I often do.  I saw the sign and made the
turn.  Not much left to see at first.  A big hole filling with water with the constant rain, some cement bags turned into stone.  But in fact the big hole in the ground is no more or less than the platform of ship, the center being the pivoting place of the canon.  There are signs all over but the place seems almost abandoned.  No French tourists visiting the place, no school children coming to learn about their past, no teachers attempting to show how devastating ego can be.
So I decided to share my visit of the "Langer Max's" site of Duzey.  Germans discovered a better
technique for the layout.  Two tunnels are protecting soldiers from the noise and Allies shelling.  Here and there vents are still allowing fresh air to get to the tunnels.  I didn't dare going into it, not having a flash light with me.  There are more to tell about the place, and I will.

Quand la Marine Britannique commença la construction du « Dreadnought » en 1906 équipé de canon de 308 millimètres (désormais je n'écrirai que mm) changeant ainsi la manière dont les batailles maritimes seraient organisées, le Kronprinz pensa immédiatement a construire quelque chose de plus grand et plus efficace. Les ingénieurs des industries Krupp s'en sont chargés et construisirent le « Langer Max » un canon de 380 mm capable d'envoyer un obus de 750 kilos jusqu'à 20 kilomètres. Mais la Première Guerre arriva plus vite que le fin du travail des ingénieurs et les Allemands combattirent plus sur terre que sur mer. Sur les 20 canons Langer Max construit, 2 furent mis en resserve au champ de tir de Meppen en Allemagne. C'est la que l'idée de mettre ces canons sur des trains devint une réalité.
La V ieme Armée du Kronprinz fut arrêtée devant Verdun et stagna, les armées alliées des Anglais et des Français déterminées a garder la route de Paris fermée. Malgré l'énorme difficulté de poser un canon sur une plateforme, le premier canon fut installée a la ferme de Sorel, environ 20 kilomètres a l'est de Verdun et le premier obus fut envoyé en février 1915 sur les forts de Douaumont et de Vaux alors que celui de Duzey fut tirer en septembre de la même année.
Je suis tombé sur l'emplacement du second par accident alors que je me baladais en Meuse comme je le fait souvent. Je vis le panneau sur la route et je mis rendis. Pas grand chose a voir au premier abord. Un grand trou dans le sol se remplissant lentement d'eau, quelques sacs de ciment devenu pierre avec le temps. Mais en fait il s'avère que le trou dans le sol remplace la plateforme du bateau, la tourelle en somme, le centre étant le plaque pivotante du canon Il y a des panneaux explicatifs un peu partout mais l'endroit est désert. Pas de touristes Français, pas d'écoliers venu pour apprendre leur passé, pas d'instituteurs essayant de démontrer a quel point l'ego peut être dévastateur.
Je décidai donc de partager ma visite du site « Langer Max » de Duzey. Les Allemands découvrirent rapidement une meilleur technique pour établir le site. Deux tunnels sont construit pour protéger les soldats du bruit et des bombardements alliées. De ci de la on voit encore les bouches d'aérations amenant l'air frais aux tunnels. Je ne m'y risquais pas n'ayant pas de lampe torche sur moi. Il y a encore beaucoup a raconter sur Duzey et je le ferai.
Image courtesy of
Paracelse
| République No.6